DINKYTOWN
MCCOSH'S BOOK STORE
1404 4TH ST. S.E.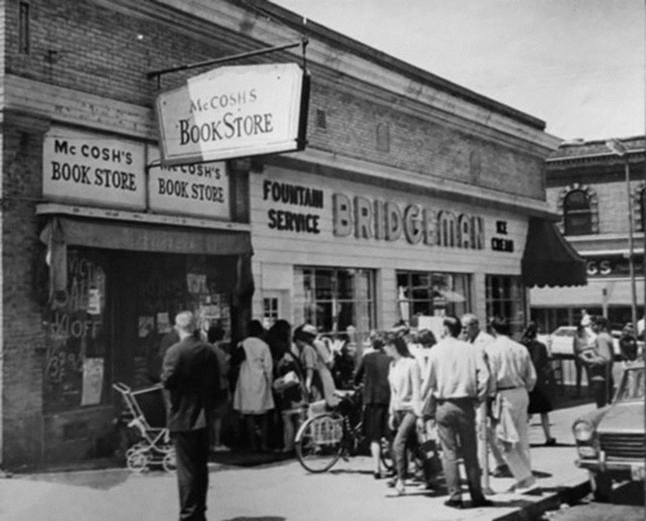 The legendary Melvin McCosh started his bookstore in the ground floor of his house, at the northeast corner of 5th Street and 14th Avenue. He had thousands upon thousands of books and rented out rooms to well-known Dinkytown characters such as Marv Davidov and John Shevlin. Around 1958, he opened McCosh's Books, adjacent to what was then Bridgeman's and is now Potbelly on 4th Street S.E. McCosh and John Heddan, whose bookstore was on 14th Avenue, used to buy books together, using an old panel truck, which they shared.
McCosh's eviction, to make way for a new kitchen for Bridgeman's, created a 'sit in' protest movement at Bridgeman's. He bought an old firehouse, now the Mixed Blood Theater, and moved his store to the West Bank. After a brief stint in an old schoolhouse in Dundas near Northfield, he moved to a former retirement home for Swedish Lodge members in Excelsior.
Each summer he would send out flyers from the 42-room mansion, exhorting readers about the upcoming sale, "You need these books more than I do." He returned to Dinkytown in 1989 to build bookcases for the Book House during Dinkytown's expansion.
PERINE'S CAMPUS BOOK STORE
315 14TH AVE. S.E.

Perine's was a fixture in Dinkytown for over three-quarters of a century. Dinkytown's history is written on its buildings, and in its historic murals. Overlooking the train tracks, it is a gateway to Dinkytown.
Perine's sold not only new and used textbooks, but a panoply of general books including literature, philosophy, history and science. It was known for its imported foreign language books and was the place to go to buy the American Library editions of Proust's Remembrance of Things Past or Gurdjieff's Meetings with Remarkable Men. Faculty provided their class booklists well in advance of the next quarter and students who wanted to delve into learning areas beyond the classroom perused the bookshelves.
It was closed in the 1970s and is now Annie's Parlor and The Kitty Kat Klub.
THE SCHOLAR
In the 50s and 60s the 10 O'clock Scholar is where the music happened. The small café, which was located roughly where Subway in Dinkytown is today, is where the story starts. Well-known musicians such as Spider John Koerner, Dave Ray, and Bob Dylan spent the early days of their performance careers gracing the small stage of The Scholar, and the scene that flourished around this café would pass into Dinkytown history and legend.
Spider John Koerner