University

High School




Class of 1967
Welcome to the U-High Class of '67 Website
Hello Classmates!
It's time to renew the subscription to the UHigh67.com class website.
We've opted for a three-year renewal, which gets us a discount and extra hard drive storage. The total cost is $468 and now we're asking for your donations to cover that amount. A suggested donation is $20, but we will be happy with less or more — please give whatever you feel you can afford.
Jamie Dayboch has continued as our "class treasurer" and he will be collecting donations. You can donate with a check sent to Jamie or by credit card through this website. Just click on the "Donate now" button in the box on the right side of this page. You must be logged into the site to view the Donate page and make a donation.
The website has been a great resource. Whenever there is a post, message, or photo, the website hits spike. It's proven a very good communication tool. Now, with the extra storage, we can post more photos and even videos.
We're looking forward to hearing from you. The deadline for subscription donations is December 10th.
If you have enjoyed the website and would like to see it continue, please help to make that possible with a donation, and thank you for your contribution. It's been a great way to stay connected.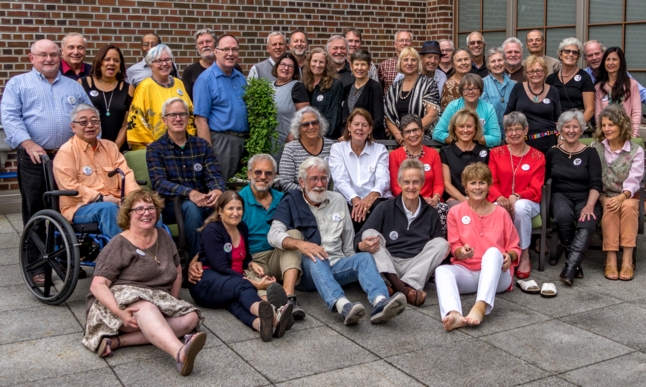 See everybody's latest photos and comments with one click: New Photos & Comments (at top of left menu)
Check out Photo Gallery for reunion pics & classmates' 50-Year Snapshot Albums
Here, on our '67 Class Web Site, you can
create your own profile, with bio info and photos (see First Time Visitors)
keep track of classmates
share general photos (see Photo Gallery)
stay updated on future reunion plans
...plus other fun stuff to come.
Got an idea for something fun you'd like to see on the website? Or something to make it more user-friendly? Suggestions welcome! (click on Contact Us)
Your Site Administrators,
Bunny Hudak Moore, Tom Smerling, Harrison Klein