University

High School




Class of 1967
Virtual Coffee 2 Mini-Reunion Was a Success!
We had a great turnout of 30 classmates, spanning the U.S. from west coast to east coast, then jumping the Atlantic to the Netherlands, Belgium, and South Africa.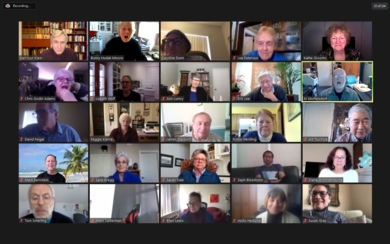 Participants listen as classmate shares a story
Everyone listened intently as a variety of tales were told:
first heroin bust and wounding the stove with a misfired gun…
AIDS research…
culture shock; going from Minnesota and U-High to Washington DC and Howard University…
stories about the draft, and enlisting or avoiding it…
working for Walter Mondale during impeachment hearings…
finding bodies at a construction site…
student teaching at U High…
and many more.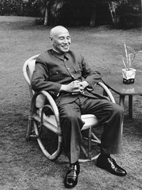 Eric shared the story of his family having to get a special order from Chiang Kai-shek to leave Taiwan!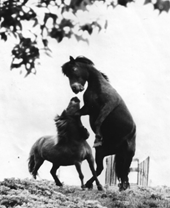 And Holly told a fun story about her father bringing a pony home to Robbinsdale in the back seat of the car!
(The big horse is Billy Boy playing with Tiki, a Shetland pony who joined Holly's family later and was trained to pull a cart.)
You can hear all the stories and view the video recording. Find the link on our Virtual Coffee page. You must be logged in to view that page, so if you're a member of the U High Class of '67 but are not registered for this website, register now (see instructions below).
We ended our gathering with a quick survey. The last question was accompanied by the song "Louie Louie" playing in the background. It was a fun question so we thought we'd share it here.

Remember that controversial 1963 hit song, "Louie Louie" by the Kingsmen? Only two of the following statements are FALSE. Which are they?
The lyrics includes references considered obscene, by the standards of the day.
There is an officially recognized "Louie Louie Day" in April.
The song is cited as a well-known "mondegreen".
The FBI conducted a 2-year investigation of the song for obscenity.
The lead singer recorded the song while wearing dental braces.
Some teenagers discovered that they could discern the lyrics by playing the record at 33 rpm.
The melody was taken from "Amarran El Loco" ("Tie Up the Madman") by Rozendo Riuz.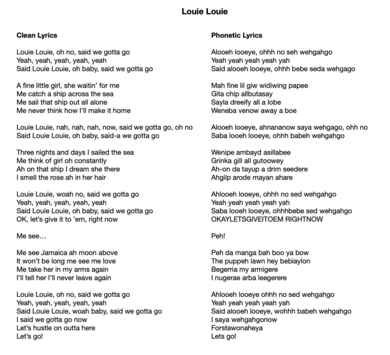 The two false statements are #1 and #6. The lyrics were not found to be obscene, but the controversy continues. (Apparently in live concerts the lyrics varied
.) Being able to discern obscene lyrics by playing at 33 rpm was a myth, but thousands of teenagers tried it! Did you? Here are the lyrics if you're interested — click on the image to expand.
The consensus of our classmates is to continue the Virtual Coffee Mini-Reunions and have them twice a year. So we're going to aim for Virtual Coffee #3 around mid-July. Once we get the planning started and the date confirmed we'll be alerting you to save the date on your calendars!
And, thank you Seph, we'd all like to express our gratitude to you for letting us use your Zoom account to make these Mini-Reunions possible!
Looking forward to seeing you all in July!
Bunny Hudak Moore
Caroline Christian Dunn
Harrison Klein
Kathe Schnoes Grooms
Lee Peterson
Tom Smerling
Joe "Seph" Bloedoorn
How to join our U High Class of 1967 website:
It's quite easy. On this Home Page look in the top right column under SIGN IN. Click on "Join Here". Locate your name on the page and click on it. It will say "JOIN HERE". Click to create your login. Fill out the contact information and create your password. Be sure to make a note and file your password where you can easily access it! Then proceed to the next steps as directed. If you have any problems, our email is linked to our names below; just click on one of us. We'll be happy to help you out.
WEBSITE ADMINISTRATORS:
Bunny Hudak Moore, Harrison Klein, Tom Smerling